At Willowbrook Dental Clinic, our dentists offer a variety of oral surgery procedures, including bone grafting, extractions, and dental implants, to try and improve the overall health and appearance of your smile.
---
Why oral surgery?
When bone or gum tissues are deficient or diseased, in most cases we can replace these tissues and enhance both the function and aesthetics of your smile.
There are many oral surgery methods available to put back what has been lost: synthetic graft materials, bone and skin from tissue banks or borrowed tissue from elsewhere in the mouth.
When diseased excess tissues need to be removed, we can use our diode surgical laser to perform various soft tissue procedures with a limited need for anesthetic and no need for stitches.
Are sedation options for oral surgery available?
In order to make your surgery as comfortable as possible, a number of our oral surgery services can be performed with a local anesthetic, nitrous oxide, or IV sedation.
We offer the following oral surgery options:
Dental extractions including wisdom tooth removal
Exposure of un-erupted or impacted teeth for orthodontics
Periodontal (gum) therapeutic surgery
Periodontal plastic surgery
Removal of cysts, tumors and abscesses
Removal of excess soft tissue including frenectomies
Diagnostic biopsies
Soft tissue grafting
Bone grafting
Surgical crown lengthening
Endodontic Surgery (root canals)
Dental Implants
---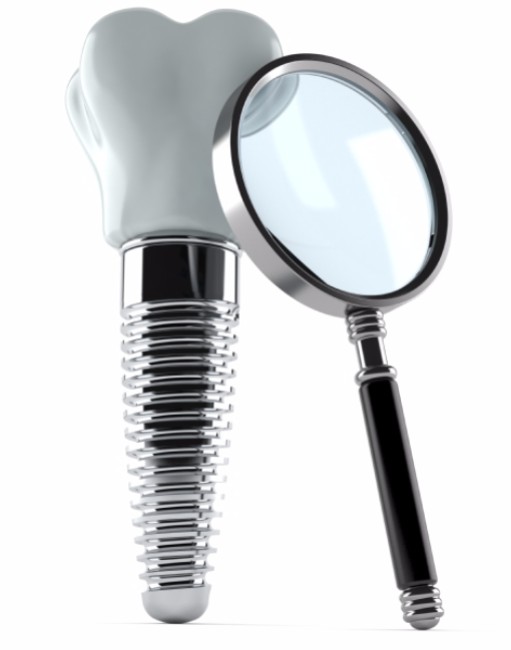 Dental Implants
Dental implants are artificial teeth that are actually implanted into your jaw. These permanent teeth replacements are a convenient, durable, long-lasting and natural looking alternative to dentures.
Why Implants?
While bridges may have to be replaced 2-3 times in one's lifetime, studies show that implants can last for life, thus saving money and time in the long run. For patients with ill-fitting dentures, dental implants can be placed to anchor the denture and prevent it from moving and/or causing discomfort.
Dental implants look and feel just like your real teeth. That means you can laugh, smile, and eat comfortably and naturally, and most of the time, you'll forget they're even there.
Process
The dental implant procedure takes place over two appointments. During the first, the actual implant will be placed into your jaw, with a local anesthesia. After the implants have healed, the new tooth That is, the visible portion or "crown") will be attached to it.
Results
Once your dental implants have been placed, you can go back to eating, talking and laughing just as you normally would. Your implants will look just like your real teeth, meaning no one will realize that they are artificial.
Implants should be cared for just like natural teeth, with regular brushing and flossing, and twice-yearly visits to the dentist for a cleaning and checkup.
---
Endodontic Specialists For Langley Patients
When specialized care is required, we refer patients to DMD Endodontics & Microsurgery in Langley and Surrey for root canal therapy and advanced endodontic treatment.    Visit Website
---
At Willowbrook Dental Clinic, we offer a variety of sedation options for patients who are undergoing more complex procedures, or who feel anxious about visiting the dentist. View Our Sedation Options »