There are multiple orthodontics or braces options – including Invisalign®, translucent braces, lingual braces and In-Ovation mini-braces – which our dentists will recommend to Langley patients based on their unique needs.
---
What is Orthodontics?
Orthodontics is a type of dentistry focused on the correction of improper bites and tooth irregularity.
Dentists trained in orthodontics may help patients of any age improve tooth and jaw problems and can also assist those who desire cosmetic changes through straightening of their teeth.
What problems can be helped with orthodontics?
Orthodontists specialize in correcting a variety of dental problems. Some of the issues revised by orthodontic procedures include: difficulty chewing, crowding of teeth, missing teeth, speech difficulties, protruding teeth, irregular bite and facial imbalances.
---
Orthodontic Treatment Options
Braces
The most common form of orthodontic treatment is the installation of metal dental braces that help straighten teeth, remove gaps, and correct overbites.
Braces come in many styles:
Coloured Braces - You can add some style to your metal braces by choosing coloured elastics. And because the elastics are changed at each adjustment appointment, you can change up your look each time!
Translucent Ceramic Braces - These braces have brackets made of a strong ceramic material that closely matches the colour of your teeth, so that they blend in and appear translucent.
In-Ovation Mini Metallic Braces - In-Ovation Mini Metallic braces straighten teeth without elastics or metal ties, giving them a lower-profile appearance than regular braces, and making them easier to keep clean.
Lingual Braces - Lingual braces work much like traditional metal braces, except they are placed on the backs of your teeth, making them virtually invisable when you smile or talk!
Invisalign
Invisalign is a series of clear, fully customized plastic aligners that straighten your teeth just like metal braces do, but with two important differences: they're clear, making them almost invisible when worn, and they're removable, meaning you can eat, brush and floss just like you normally would!
Invisalign is available for teens and adults who would prefer not to deal with the aesthetics and inconvenience of traditional braces.
---
*The Diamond Invisalign Provider ranking is based on Invisalign use data and is not necessarily indicative of clinical superiority.
Orthodontic Surgery
The American Dental Association states that in some cases, orthodontists may choose to use surgery to modify the teeth and jaw.

AcceleDent® Aura

Invisalign® – Clear Braces
---

Coloured Braces

Translucent Braces
---

Lingual Braces – Behind Teeth

In-Ovation® Mini-Metallic Braces
Acceledent Aura
Developed by OrthoAccel® Technologies, Inc., AcceleDent Aura is a hands-free device that, when worn for only 20 minutes a day, can help speed up the orthodontic treatment process. AcceleDent has been clinically proven to speed up the tooth movement process by up to 50%, meaning you can achieve your beautiful new smile in significantly less time than initially anticipated.
---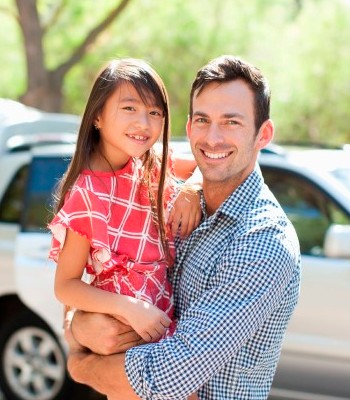 When should children visit an orthodontist?
Children should have their first orthodontic consultation no later than 7 years of age. Although some children may not require treatment until between the ages of 11 to 13, the first permanent molars and incisors have usually come in around age 7 and cross bites, crowding and other problems can be evaluated.
Can adults undergo orthodontic treatment?
While many people have corrective orthodontic procedures done early in their lives, it is not uncommon for adults and even seniors to undergo orthodontic treatments. As long as your teeth are healthy, the process by which they are straightened is more or less the same whether you're 16 or 60.
It's never to late to achieve the smile of your dreams!
How long does treatment take?
Depending on the specific problems of the patient and the methods used to correct them, orthodontic treatments can last as few as six months but may take three years or more to complete in severe cases.
---
To discuss your orthodontic options with one of our dentists, please book a consultation today!