Maintaining your children's oral health is important for their life-long oral health, so we try and offer convenient services for kids.
---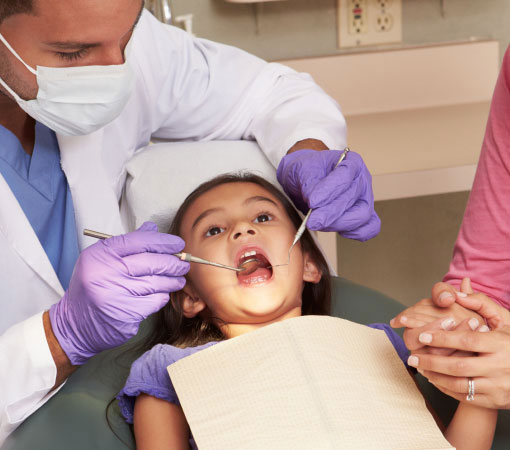 Managing Your Children's Oral Health
We take pride in creating and maintaining beautiful and healthy smiles for our younger patients in an environment that is lighthearted and fun. We focus on establishing oral health habits that last a lifetime, with education and prevention as our primary tools.
How old should my child be for his first visit the dentist?
We recommend that your children should visit the dentist either at the first sign of a tooth, or around the time of their first birthday.
While we may not need to see them again until the rest of their teeth come in (around age three), bringing them in for an early initial visit will help us diagnose, and subsequently monitor and/or treat, any potential issues.
How often should children visit the dentist?
We recommend that children visit us every six months for a routine check up and hygiene cleaning, just like adults. Your dentist may recommend more frequent visits depending on your child's oral health care needs.
Sedation Options for Children
If your child get anxious or fearful about visiting the dentist, sedation dentistry can be an option to help ease that anxiety. To help your child relax, we offer either oral sedation to take before their appointment, or nitrous-oxide gas during their appointment.
We usually recommend the nitrous oxide for children, since wears almost off immediately once their appointment is finished.
---
Pediatric Dentists for Langley Children
If your child requires advanced dental care, we refer patients to the children's dental specialists at Smile Town Dentistry Langley for specialized treatment options and preventive care.     Visit Website
---
Book Your Entire Family Together
At Willowbrook Dental Clinic, we offer family member appointment bookings simultaneously for your convenience. Our team of dentists, dental hygienists, dental assistants and administration staff try to focus on delivering our services in a convenient and comfortable space. 
---
Contact us today to book your next appointment.